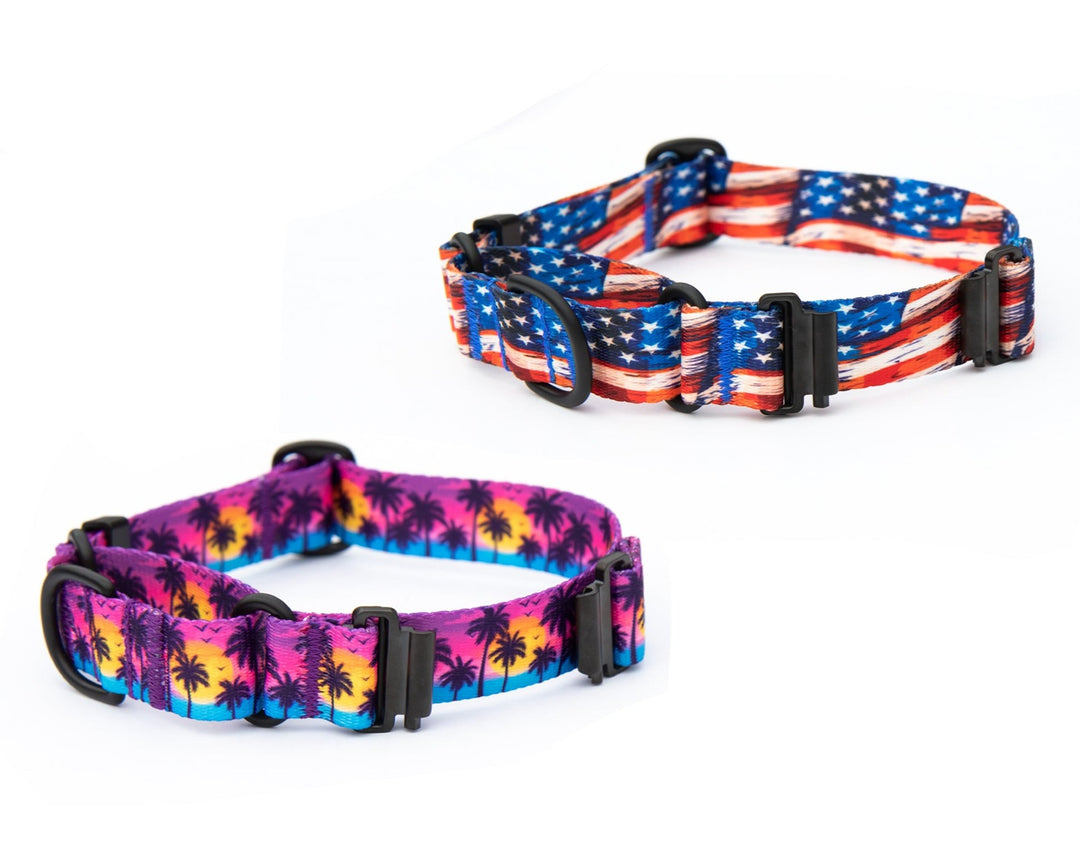 Fi Compatible Martingale Collar Without Buckle
Current Processing Time: 3-7 business days
---
---
Due to this collar being custom made to your measurements & color preferences we cannot accept returns or exchanges. Please double check your measurements & feel free to email me with any questions prior to ordering at info@seaflowercompany.com
Fi tracker is sold separately. If you don't already have your own, purchase your tracker HERE.
 Use our code: SEAFLOWER20 to save $20 off the activation fee from your Fi Series 3 purchase.
Our Fi Compatible collars add more fun to your dog's active lifestyle! These martingale collars feature our unique bright and vibrant designs and includes
 authentic 
Fi end-links to attach to your Fi tracker. 
Made from strong, durable polyester webbing


UV, Mildew & Water Resistant

Easy to clean when it gets dirty

Available in 3/4", 1", & 1.5" collar widths

Available in a variety of our exclusive and unique designs
Looking for a Fi compatible martingale with a buckle? Click Here
Stainless Steel: Known for its strength, durability, & low maintenance attributes. Perfect for all those salty beach adventures, & the best option if your pup is hard on their gear.

Black Metal: A great option for upgrading the look of your collar. Made from heavy duty solid brass & zinc alloy hardware. This makes it rust & corrosion resistant. As all coated hardware will show wear overtime, our black metal is PVD treated which produces a durable finish.
Safety & durability is our top priority at SeaFlower Co. We use high quality materials and durable, thoroughly tested hardware for all of our products. Our products are made with ruff play in mind, but no pet gear is indestructible. Please inspect your equipment regularly for any signs of wear and tear & replace when necessary. It is the buyer's responsibility to determine what gear is appropriate for their dog's size, strength, and activity level. SeaFlower Co is not liable for any injuries or damage that may occur as a result of use.
The Perfect Fi Collar
The collar design is flawless, surpassing any other well-designed options available, especially for smaller dogs. Placing the fi collar over the band is incredibly helpful, as it eliminates the issue I faced with my previous fi collar constantly breaking off at the tracker attachment. The collar's handmade craftsmanship is evident, showcasing high quality in every detail. Moreover, I was pleasantly surprised by the speedy delivery, receiving my order within a week. The owner was exceptionally responsive and provided valuable assistance throughout the process.
In an effort to reduce the collar's weight and minimize the risk of it coming off, I opted for the martingale style without the buckle. It serves its purpose in this regard; however, I must mention that my dog doesn't particularly enjoy having it put over his head. Despite this minor inconvenience, the collar remains secure and offers peace of mind.
Overall, I am extremely impressed with the flawless design, collar durability, and attentive customer service. It's a top choice for owners of smaller dogs, and the attention to detail in every aspect of the product is commendable. While my dog may have a slight reservation about putting it on, the collar provides excellent functionality and is worth the investment.
Absolutely love it!!!
The collar is custom sized perfectly for my dog's neck. It is durable, well made and beautiful! My dog enjoys playing in the lake and muck and the collar is easy to clean and does not smell after being wet. I absolutely love the collar and plan on ordering more!!
Great quality
I have looked high and low for a fi compatible martingale collar. So happy to find this company! Love the variety of patterns, and quality is amazing!